Carol Barr, BS, '69 Creates Scholarship Endowment Through Will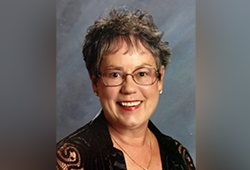 Carol Barr, BS Dental Hygiene, '69 met her late husband William Patrick Barr, BS in Pharmacy, '69 while they were both attending Idaho State University. Interesting enough, Carol's maiden name was also her married name so they met in the registration line.
After graduation they worked 40 years in their professions and were very successful. Though living in northern California they stayed active, visiting ISU after graduation and showing their children the campus on vacations. They also faithfully attended gatherings in Sacramento for Pharmacy Alumni and Phi Delta Chi Fraternity.
Carol remembers giving back to Idaho State early, as she and Pat were donors to Holt Arena while it was still being constructed. Through the years they continued to stay involved. Carol and Pat were married for over 41 years until Pat passed away in 2011.
The same month Pat passed away there were two other fraternity brothers that passed away. One friend of all the families, Gary Thomas, BS, '68, thought it would be a good idea to start an endowment fund for Pharmacy in all the fraternity brothers' names. While gathering funds for the initial endowment, another fraternity brother passed away. That donor left a large donation through his bequest so all these fraternity brothers put together one endowment fund for the College of Pharmacy.
After Pat died Carol thought that because they had attended the same university that it would be a good idea to also have an endowment fund in her name setup through a bequest for the Dental Hygiene Department. "At ISU my education was so specialized and we were all so lucky to have three instructors for ten students. Every procedure was closely monitored and I am forever grateful for that experience."
"I enjoy giving to ISU because it is small enough that I think my gift in whatever amount it might be will be recognized and valued. With other huge schools there are so many alumni and so many generations that no one actually knows the family story of each gift."
Carol appreciated the culture that she and Pat found at Idaho State. "The truthfulness and authenticity of the campus really shines through and the sharing of resources and knowledge. The strength of any organization is its fairness and taking care of one another in times of need. The whole community of Pocatello has a loving mindset like being part of a family atmosphere."
Carol likes to give gifts to charities when she think they will be appreciated and used in the manner designated by her. "At ISU I feel that the gifts won't go to anyone who isn't mentioned in the agreement for the gift."
"I would like our family legacy to show someone, someplace, sometime that Pat and I met and graduated from Idaho State University in Pharmacy and Dental Hygiene. We appreciated our education and want future generations to benefit from our gift."