Arlo Luke, BS, '64 Leaves a Legacy for the Arts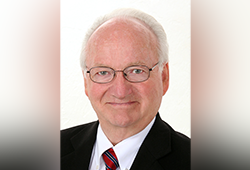 Like many other Idaho State University students, Arlo Luke, BS, '64 worked during college to fund his education. Little did he know at the time that his part-time job would turn into a lifelong career as an entrepreneur.
Varsity Facility Services started as a small house cleaning and restoration business by Don Aslett, BA, '63 during college, enabling many college students a job to get through college. Arlo joined with him during that time and they became best friends and later became partners, a relationship that has lasted for 62 years. Though he worked many hours, Arlo still managed to complete a rigorous program in the College of Pharmacy.
After graduation, Arlo worked for three to four years as a pharmacist in addition to maintaining a then small but expanding janitorial business. The challenge was that the business kept growing and he no longer had time to work as a full-time pharmacist while managing a flourishing company.
For that reason, he decided to devote all his energies to the growing business. As the business continued to grow regionally, Don became a book writer and into other business ventures and Arlo became the CEO for the next 28 years leading it from a small regional business into a national corporation operating in all 50 states with over 6,000 employees and subcontracting to over 2000 smaller companies. Together and with many talented leaders, they built a company that not only had "Excellence" as their standard, but created a company culture that was creative, competitive, fun, and inspirational with high purposes.
While growing his business, Arlo never forgot about his community or alma mater. As he mentioned, "Life has a purpose and we're not here by chance. We're here to be part of the lives of the people around us and our community."
For that reason, Arlo stayed active, simultaneously serving on seven different community boards at one time. Idaho State is fortunate that he prioritized service to the university, as he has been a board member of the Idaho State University Foundation for many years and past President.
An important part of Arlo's life has always been music and the arts. With his passion for the arts, he knew how big of an impact the Stephens Performing Arts Center would have on Idaho State University and the surrounding community. While considering how he and his wife Jackie could support the new home of the arts, they felt it was important to lead by example.
"I hoped that others would see our commitment as an example to encourage them to become part of this transformational center." With that in mind, Arlo and Jackie made a major commitment to the Stephens Performing Arts Center through a life insurance policy.
This gift helped allow construction to proceed, and countless students and community members have enjoyed a wide variety of events and performances at the Stephens Performing Arts Center because of Arlo and Jackie's generosity.
"I have been blessed in many ways in my life, and I want to share what I can to support and promote good causes in this life." "Arts are one of my great passions, and I'm proud to have had a small part in the creation of the Stephens Performing Arts Center."
Arlo feels that ISU is continuing to trend upward and enjoys watching that process, as life is a myriad of small events and acts that become a major journey. He and Jackie are proud of their community involvement with a variety of different groups, but they feel that, "One of the greatest things you can give is the gift of education."